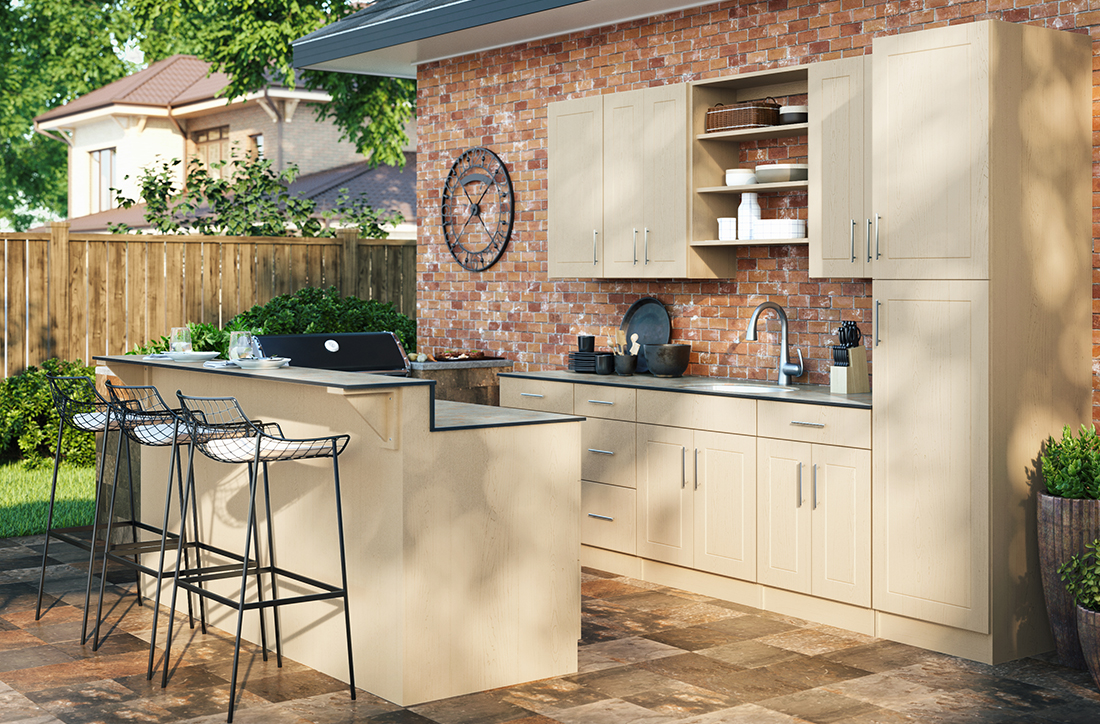 These are the Same Cabinets that are Available at the Big Chain Stores.
However, we offer them to you with the kind of Customer Service that you'd expect from a small store, without spending more. Contact us for a FREE 3D Design and Quote. If you already have a price, send us your quote to Get the Best Price on Weatherstrong. We can Ship Weatherstrong outdoor cabinetry anywhere in the U.S.!
Weatherstrong is a line of outdoor cabinets that are marine grade and ready to stand up to what the environment can dish out. Made of a special Polymer these cabinets are truly weather proof. They are made of 3/4" marine grade polymer material and comes in your choice of 3 colors; radiant white, river sand, and rustic gray. There are also 4 door styles to choose from, Miami, Palm Beach, Naples, and Key West. In addition all the hardware is made of Stainless Steel which promises years of operation to come. Take a look at the Weatherstrong site for you size options and then contact us for a free design and quote just like you'd get at the store, but, we believe we have the best price on inexpensive outdoor cabinets.
If you need to put together an outdoor kitchen on a budget then Weatherstrong Cabinetry may be just the right product because they are economical, without being cheap-quality, outdoor cabinets! Made of a marine grade plastic with stainless steel hardware these cabinets provide a low cost alternative to what can be an otherwise a costly project!
Find out more?
Read more about the quality of these cabinets.
Ready to plan your project?
Drop us a line today for a free quote!